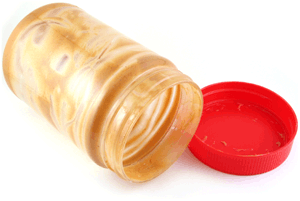 There are a plethora of reasons for which I love Costco. But this week, I especially love Costco for possibly saving our lives. If you haven't heard already, there is a
nation-wide
warning
on a salmonella outbreak in many items containing peanut butter. 7 cases have already been reported in Las Vegas!
Now I wasn't really put out with last year's tomato scare, but PB just happens to be one of my favorite foods, and this is one warning I am pretty upset about.
As of this morning I have received a total of 3 calls, each one for a separate item that I have purchased since LAST JULY that contain peanut butter. An intense and slightly scary automated voice demanded me to immediately dispose or destroy any remaining products I had that contain PB.
I find it a tad creepy that technology has come so far that Costco knows that I purchased Cliff bars, Zone bars, and PB pretzels since last summer and can call me to tell me to throw them all away within the same day that this whole thing hit the press . Yet, at the same time it also adds a whole other level of coolness to the magic that is Costco.